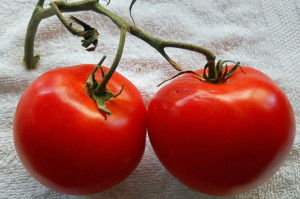 Bruschetta with Tomato Topping
2014-08-03 12:06:02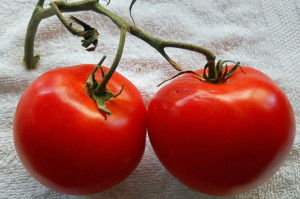 Simple ingredients, complex flavors - Great at Parties
Ingredients
1 Loaf French Baguette
5 - 6 Plumb Tomatoes
4 Tablespoons Extra Virgin Olive Oil
2 Tablespoons Red or White Wine Vinegar
1 Teaspoon Dried Basil - Fresh if you have it
1 Teaspoon Course Kosher Salt
1 Teaspoon Fresh Ground Black Pepper
4 to 6 Cloves Fresh Garlic, put through a press
Extra Olive Oil for Baguette Slices
Instructions
Preheat oven to 350 Degrees F.
Slice baguette on about a 45 degree angle 1/4 to 1/2 inch thick. Brush slices, both sides, with Olive Oil and arrange in a single layer on a baking sheet. Sprinkle with small amount of Course Kosher Salt and a few grinds of Black Pepper.
Bake for 25 to 30 minutes, slices should be crispy and slightly browned.
Cut tomatoes in half the long way through the stem end, remove the seeds and pulp only if desired (The seeds and jelly contain a third more tomato flavor than the flesh). Chop tomatoes into a 1/4 inch dice.
Combine tomatoes with remaining ingredients in a mixing bowl. Let stand in refrigerator for at least 1 hour, stir occasionally. Serve with the baguette slices.
Notes
For a variation, try multi-grain or sourdough baguettes. Spread goat cheese on baguette slices before topping with tomato mixture for an interesting change.
Adapted from an original Groenleer Family recipe, developed in Alan's kitchen
Adapted from an original Groenleer Family recipe, developed in Alan's kitchen
KF8VN.COM http://kf8vn.com/